Rival could prove a fierce competitor but Rogers needs to get the deal done
Investors on Monday cheered the announcement that Rogers and Shaw had agreed to sell Shaw's Freedom Mobile wireless assets to Montreal-based Quebecor, with the share prices of all three telecom companies jumping significantly during the day's trading.
But while the deal may help Rogers and Shaw allay Canada's competition watchdog's objections to their $26-billion combination, analysts believe Montreal-based Quebecor will turn out the big winner of the Freedom transaction itself.
Quebecor Inc. snagged the wireless assets for $2.85 billion, much less than the $3.5 billion to $4 billion they were expected to fetch before competition authorities moved to block the merger of Rogers and Shaw, concluding that it would reduce wireless competition and increase consumer prices.
"While it appears the market was generally not in favour of QBR (Quebecor) buying Freedom, we believe there was a price at which the acquisition made sense — $2.85 billion is below that level, in our view," Desjardins analyst Jerome Dubreuil said of the agreed purchase price in a note to clients.
Shares of Rogers Communications Inc. closed up nearly six per cent to $62.48 Monday while Shaw Communications Inc. gained more than seven per cent, reaching $37.34. Quebecor shares, which had taken a hit earlier in the sale process when it appeared the telco with national wireless ambitions might spend heavily to achieve them, topped $30 before slipping back to $29.27, still up nearly six per cent over their previous close of $27.66.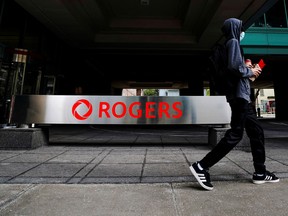 Dubreuil had estimated a valuation as high as $4.1 billion on the Freedom assets before the sale to Quebecor was announced late Friday, but he noted that Rogers was faced with pressure to sell quickly once the Competition Bureau made its objections clear, including rejecting a previous divestment "remedy" proposed by Rogers. In addition, Dubreuil wrote, a hearing before the Competition Tribunal could keep the merger of Rogers and Shaw in limbo into 2023.
Article content
"Time constraints likely put QBR (Quebecor) in a good spot," the analyst wrote. "We believe putting forward a very credible bidder (in terms of its potential impact on competition in wireless) was RCI's (Rogers) best shot at trying to reach a negotiated agreement with the Competition Bureau, which accelerated the process."
The new plan to sell Freedom's assets to Quebecor also requires approval from the Competition Bureau, as well as Innovation, Science and Economic Development Canada, the federal government body that has yet to formally weigh in on the Rogers-Shaw combination.
The outcome will determine the next phase of wireless competition in Canada, with the federal government having long pushed for the establishment of a viable fourth national player to compete with Rogers, BCE Inc.'s Bell, and Telus communications Inc.
Dubreuil said Quebecor may prove to be a fierce wireless competitor to Rogers and the other incumbents in Freedom's territories of British Columbia, Alberta, and Ontario, as it has been in its home market of Quebec. Quebecor's chief executive Pierre Karl Péladeau has made it known that his intention is to expand nationally and bring down wireless prices. But Rogers faced more dire possibilities if it didn't make a deal quickly, the analyst said.
"Freedom is being sold to a competitor which has shown strong operational capabilities in wireless over the last decade," Dubreuil wrote. "However, we believe the impact of these considerations is dwarfed by the increased odds that the (Rogers-Shaw) deal will close."
The blockbuster merger agreement between the Toronto and Calgary-based telecom giants was forged last year and was supposed to close this month, but Rogers and Shaw agreed to keep working on it through the end of July following the Competition Bureau's objections.
Over the weekend, the plan to sell Freedom Mobile to Quebecor came under fire from rival bidder and Globalive founder Anthony Lacavera, who called the sale process "anti-competitive." For starters, he said, his company bid $900 million more than Quebecor will pay for the Freedom assets, a price in the range analysts estimated they were worth.
Lacavera, who has said he was excluded from the formal sale process — Quebecor was initially as well — contended that the Montreal-based cable and media company was eventually selected as the buyer of Freedom Mobile because it is not a pure-play wireless operator, so it could not shake up wireless pricing the way Globalive could without risking a "retaliatory strike" from Rogers, Bell, and Telus against its "legacy" businesses that include cable, phone and internet.
Lacavera questioned whether the federal government, which has made clear a desire to stimulate wireless competition and bring down prices nationally, would accept a proposal that he argues "maintains the oligopoly status quo," leaving the assets with a full-service regional telecom player instead of a "true independent and well-capitalized competitor." Globalive previously owned the bulk of the Freedom Mobile assets, which were run under the WIND banner until Shaw bought them in 2015 and rebranded.
Lacavera previously pitched his purchase of Freedom Mobile as a way to bring U.S.-style competition to Canada, saying an independent pure-play could replicate the success of companies such as T-Mobile that brought down consumer wireless prices in the United States.
Péladeau, Quebecor's chief executive, has been vocal about his desire to replicate the competition his company has brought to Quebec in other parts of Canada, whether or not the company was able to buy Shaw's Freedom Mobile assets. To that end, Quebecor spent $830 million in the wireless spectrum auction last year, and challenged Telus Communications Inc. in court over the company's eligibility to do so.
Dubreuil, the Desjardins analyst, said if Quebecor wins approval to buy Freedom, it would be well positioned to benefit from new regulatory policy that requires national wireless incumbents to negotiate network-sharing arrangements with regional players while they build their own — an advantage he previously attributed to Shaw.
The analyst said he believes Quebecor will target a less capital-intensive mid-range wireless service, noting that Canadian wireless networks rank very high globally in terms of quality.
"Not everyone needs a Porsche," Dubreuil wrote.
He said that while he expects Quebecor to run Freedom for some time, a purchase of spectrum at what appears to be a price below the $3 to $3.40 MHz per population that incumbents paid in the last auction will give the company some "downside protection" on its investment.
"In our view, while QBR did not need the Freedom acquisition," the analyst wrote, "we believe it was at a crossroads between growing fast (which it chose) or ramping up shareholder distributions, which would have been a perfectly acceptable choice from our standpoint if the price for Freedom had been higher."
SOURCE: https://financialpost.com/telecom/quebecor-seen-as-clear-winner-in-freedom-mobile-deal-as-rogers-faces-pressure